Where to use GRAPHALLOY®
GRAPHALLOY® bushings work where others won't. You can replace ball bearings, metal and plastic bushings, and ordinary hard carbon bushings. GRAPHALLOY bushings reduce maintenance and downtime.
GRAPHALLOY is a self lubricating material and operates as a bearing without additional lubrication.These long-wearing bushings never need lubrication. Solid GRAPHALLOY is not simply a surface coating; it is self-lubricating; its properties do not deteriorate with wear. Because no grease or oil is used, these bushings do not attract dust or foreign matter. GRAPHALLOY bushings and bearings eliminate oil and oiling schedules; prevent oil or grease damage to products; operate in inaccessible locations or where maintenance is difficult to perform; operate well at significantly higher temperatures than traditional lubricants and plastics.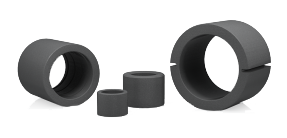 GRAPHALLOY bushings eliminate fire hazards; operate intermittently and unattended over long periods; operate where machines must be steam cleaned. They will not "spark" and are recognized as safe bearings in the explosives industry, or in explosion prone dusty atmospheres.
GRAPHALLOY bushings are available in over 100 grades with specific properties that meet a wide range of engineering solutions and specifications. The most used GRAPHALLOY materials are babbitt, copper, bronze, nickel, and silver. We also offer FDA acceptable grades for food contact equipment. Many grades are suitable for temperatures to 750o F in air, special grades give good service up to 1000oF and higher in non-oxidizing atmospheres.
GRAPHALLOY products are used in virtually every manufacturing industry:
For Pump Bushings and Case/Wear Rings

GRAPHALLOY bushings and case rings can improve the reliability and efficiency of your pumps. In horizontal and vertical pumps, non-galling GRAPHALLOY does not seize or gall if run dry or with marginal lubrication. The GRAPHALLOY fitted pump is able to survive upsets, dry running, loss of suction, slow roll on standby and other transient conditions that would damage a conventionally fitted pump.
Plastics may enable a pump to run dry briefly without a catastrophic crash, but generally a rebuild of the pump will be required, including replacement of the thermoplastic parts. GRAPHALLOY enables the pump to run dry and survive - restart or continue operating often without loss of performance or the need to replace the GRAPHALLOY parts.


Pumping low lubricity fluids, hydrocarbons, liquid gases, or hot water can be especially difficult for a metal-on-metal pump; GRAPHALLOY solves the problem. Using GRAPHALLOY also allows closer clearances often gaining efficiency improvements, reduced vibration and reduced NPSH requirements.
GRAPHALLOY provides design freedom, improves pump efficiency and improves reliability.
For more information about GRAPHALLOY in pumps click here.
back to top
Bushings for Submerged Applications

GRAPHALLOY bushings are used in water, hydrocarbons, chemical and fuel oil pumps, meters, mixers, and rotary filters. GRAPHALLOY is also used for submerged bushings in cleaning fluids, weak acids, and alkalis. The textile dyeing and paper/pulp industries employ GRAPHALLOY bushing extensively.
GRAPHALLOY is not soluble in most industrial liquids. GRAPHALLOY is a preferred material for steam seals and for equipment that must be steam cleaned. No lubrication to wash away. As Bushings or Seals in water pumps, gasoline pumps, spray pumps, meters, foot bearings, mixers, dye jigs, food and pharmaceutical equipment, bleaching and washing tanks, and rotary filters; even in molten metals.
Click here to learn about GRAPHALLOY self-lubricating bushings mounted in stainless steel pillow blocks. This series combines the corrosion-resistant and self-lubricating properties of GRAPHALLOY with the application and installation versatility of pillow blocks. Click here to learn more about Graphalloy in submerged applications.
back to top
GRAPHALLOY food grades are acceptable by the FDA. In addition, a specific grade has been accepted by the NSF for use in food machinery applications. GRAPHALLOY has been used for years in bakery ovens, dryers, grills, bottling plants, and packaging equipment - - anywhere grease and oil might fail or be too messy. GRAPHALLOY steam cleans over and over without any loss of performance.
Click here for more information on Food Applications
back to top
GRAPHALLOY is ideally suited to applications where temperatures are too high to permit the use of oil or other lubricant. GRAPHALLOY will not soften at high temperatures or extrude under load. Many grades are suitable for temperatures to 750o F in air, special grades give good service up to 1000oand higher in non-oxidizing atmospheres.
Plastic bearings, with high coefficients of thermal expansion, cannot maintain clearances or fail due to deformation. GRAPHALLOY conquers these problems.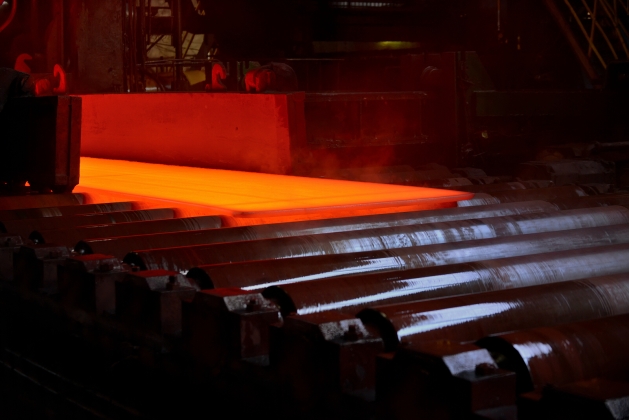 Use GRAPHALLOY as bushings in bakery and industrial ovens, glass plants, conveyors, dryers, kilns, kiln cars, stokers, soot blowers, oil guns, gypsum board and veneer dryers ...wherever temperatures are too high to permit the use of oil or greases.

Learn more about GRAPHALLOY's success in high temperature applications
Back to top
Cold (to minus 450 F) does not affect GRAPHALLOY Bushings handling liquid gases or liquid oxygen. There is no lubricant to congeal or solidify. GRAPHALLOY does not become brittle at low temperatures as plastics do.
back to top
GRAPHALLOY Bearings are used in high speed air lubricated, gas, water, steam, gasoline, and JP4 fuel lubricated bearings. Air lubricated GRAPHALLOY Bearings have operated at 100,000 rpm.
back to top
Severe vibrations and heavy loads causes "no problem" for GRAPHALLOY because there is no grease or oil. Other materials deform under load.
back to top
For Current Carrying Applications

GRAPHALLOY Bushings conduct current in welders, radar, rotary joints, high frequency furnaces, and in plating lines. See our silver graphalloy page for more information.
back to top
Special GRAPHALLOY grades are available for vacuum, high altitude and space applications. Low moisture content in the environments makes this an especially challenging application.
back to top
Custom Designed Bearings for Your Equipment

Most of our bearings are produced to a custom design for a specific application. Whatever your application, our engineers have wide experience with industrial machinery of all types; more than likely we have already developed a solution for a similar application.
When you have the design freedom to use a standard bearing or pillow block, we have a large selection of standard GRAPHALLOY parts with immediate availability. Otherwise, let us design a solution with you.
back to top
Let us solve your immediate problem: call, email or use our inquiry form
GRAPHALLOY® outperforms ordinary graphite bushings and bearings. Click here to learn more about graphite and Graphalloy bushings and bearings
High Temperature Bearings for Ovens, Conveyors, Furnaces and Dryers
Click here to link to other GRAPHALLOY pages
Click here for articles about GRAPHALLOY
Click here for a list of GRAPHALLOY parts
Click here for a partial list of GRAPHALLOY grades
Click here to learn how GRAPHALLOY can improve the operation of your pump
Click here to learn about where grease/oil lubricated and plastic bearings might fail, and why GRAPHALLOY can work in these conditions
1/2/20