GRAPHALLOY®
Bearings, Bushings and Thrust Washers
Reduce Downtime and Provide Maintenance-Free Operation
GRAPHALLOY® bearings, bushings and thrust washers are self-lubricating and eliminate time-consuming, costly maintenance. GRAPHALLOY materials are impervious to temperature extremes (from -400° F to +1000° F/-240° C to 535° C) and thrive in harsh environments where other bearings fail.
GRAPHALLOY standard and custom designed products provide lifetime cost savings and significant operating advantages over conventional bushings and bearings.
Let us solve your immediate problem: call, email or use our inquiry form  
A complete size range of standard "off the shelf" solutions. These self-lubricating bushings provide maintenance-free service. Available in FDA acceptable grades.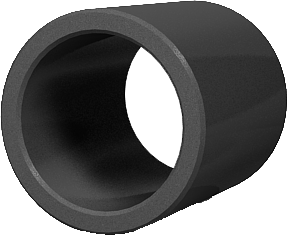 GRAPHALLOY high temperature bushings provide long life in
high temperature applications
such as industrial ovens, conveyors and overhead paint lines. Standard sizes will fit common overhead paint line conveyors used in high temperature drying ovens.
These easy-to-mount standard flange bushings are used widely throughout the industry. They are available in grades to provide solutions to the most difficult bearing problems. These flange bushings are designed to handle both radial and thrust loads.
These thrust washers provide a high temperature solution for thrust loads in conveyor bushings, traction wheel bushings, pillow blocks and similar applications.
GRAPHALLOY block bushings provide solutions for submerged applications. They are used primarily in the textile finishing industry in dye and bleach ranges, wash boxes and dye jigs to replace cast iron, plastic or stainless steel bushings.
As with all GRAPHALLOY bushings, these split double flanged bushings will survive harsh environments. They are commonly used in screw or spiral conveyors or feeders to move a large variety of bulk materials. They are also used in batch mixers and in agitators. Since GRAPHALLOY never requires lubrication, the conveyed product is not contaminated and does not collect in the bearing.
Let us solve your immediate problem: call, email or use our inquiry form  
GRAPHALLOY® outperforms ordinary graphite bushings and bearings. Click here to learn more
High Temperature Bearings for Ovens, Conveyors, Furnaces and Dryers
Learn more about the benefits of GRAPHALLOY
Receive a GRAPHALLOY design solution from one of our engineers
Request literature about GRAPHALLOY