Navigation
GRAPHALLOY®
Type 327
2 BOLT SELF-ALIGNING PILLOW BLOCK

316 Stainless Steel Housing: shaft sizes ½ to 1 ½ "

These stainless steel pillow blocks are designed for high temperature applications as well as those in harsh environments such as paper-drying arch dryers, single-pass dryers, vertical mounting pass dryers, can coating dryers and multideak dryers.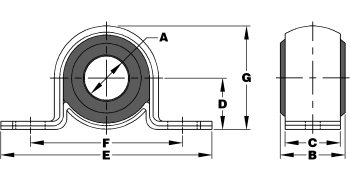 Metric shaft sizes and FDA accepted bushing grades are available. Replacement inserts are sold separately.
Part Number

Shaft O.D.
A
B
C
D
E
F
G

327-4016

1

1-11/16

1-7/16

1-11/32

5-1/4

3-7/8

2-11/16

327-4017

1-1/16

1-11/16

1-7/16

1-11/32

5-1/4

3-7/8

2-11/16

327-4018

1-1/8

1-11/16

1-7/16

1-11/32

5-1/4

3-7/8

2-11/16

327-4019

1-3/16

1-11/16

1-7/16

1-11/32

5-1/4

3-7/8

2-11/16

327-4020

1-1/4

1-11/16

1-7/16

1-11/32

5-1/4

3-7/8

2-11/16

327-4021

1-5/16

1-11/16

1-7/16

1-11/32

5-1/4

3-7/8

2-11/16

327-4022

1-3/8

1-11/16

1-7/16

1-11/32

5-1/4

3-7/8

2-11/16

327-4023

1-7/16

1-11/16

1-7/16

1-11/32

5-1/4

3-7/8

2-11/16

327-4024

1-1/2

1-11/16

1-7/16

1-11/32

5-1/4

3-7/8

2-11/16