GRAPHALLOY®
4 BOLT SELF-ALIGNING
FLANGE BLOCK
Stainless Steel Housing (304): shaft sizes ½ to 1½

These stainless steel flange blocks are commonly used in dampers, louvers, and shutter installations. The stainless steel housing makes these flange blocks ideal for wash down and other harsh applications.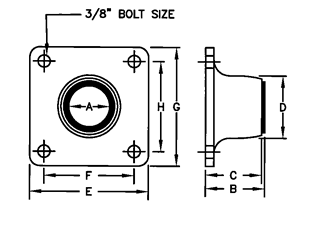 Click here for larger drawing
Metric shaft sizes and FDA accepted bushing grades are available. Replacement inserts are sold separately.
Part
Number

Shaft
OD

A

B

C

D

E

F

G

H

318-16

1

1-13/16

1-23/32

2-11/16

3-5/8

2-3/4

3-5/8

2-3/4

318-17

1-1/16

1-13/16

1-23/32

2-11/16

3-5/8

2-3/4

3-5/8

2-3/4

318-18

1-1/8

1-13/16

1-23/32

2-11/16

3-5/8

2-3/4

3-5/8

2-3/4

318-19

1-3/16

1-13/16

1-23/32

2-11/16

3-5/8

2-3/4

3-5/8

2-3/4

318-20

1-1/4

1-13/16

1-23/32

2-11/16

3-5/8

2-3/4

3-5/8

2-3/4

318-21

1-5/16

1-13/16

1-23/32

2-11/16

3-5/8

2-3/4

3-5/8

2-3/4

318-22

1-3/8

1-13/16

1-23/32

2-11/16

3-5/8

2-3/4

3-5/8

2-3/4

318-23

1-7/16

1-13/16

1-23/32

2-11/16

3-5/8

2-3/4

3-5/8

2-3/4

318-24

1-1/2

1-13/16

1-23/32

2-11/16

3-5/8

2-3/4

3-5/8

2-3/4