GRAPHALLOY®

Upgrade Improves MTBF of Refinery's Storm Water Pumps
Engineers at a U.S. refinery's wastewater treatment plant upgraded the bronze bearings on their vertical turbine pumps in wastewater service to GRAPHALLOY® bushings and solved their packing failures.

This refinery was experiencing frequent bearing failures in their single-stage vertical turbine wastewater pumps. The bronze stuffing box bearing often failed which allowed shaft movement and, in turn, put stress on the packing. This caused the packing to quickly wallow out resulting in a leaking packing.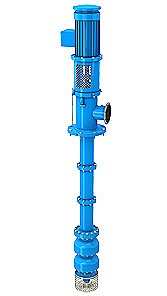 The refinery engineer discussed the situation with an engineer from Graphite Metallizing, the manufacture of GRAPHALLOY self-lubricating bushings. The Graphite Metallizing engineer suggested that they replace the bronze bearings with GRAPHALLOY bronze-grade bushings and put an additional bushing in with the packing to help with the bearing load at the stuffing box. The bushing would be installed in place of a couple of rings of packing and would help increase packing life.

The GRAPHALLOY bushings (stuffing box, line-shaft, bowl and suction bushings) were provided and installed.  Because the GRAPHALLOY bushings are non-galling (unlike the bronze), they could be designed with a tighter fit to reduce vibration. The bushings also included a spiral groove to channel any foreign material out of the bushings.

It has been a year since the pumps have been back in service and the refinery engineers are "very pleased with GRAPHALLOY's performance." They are in the process of converting additional pumps to GRAPHALLOY.

Besides wastewater, these vertical turbine pumps are used in the following services:
Cooling Water
Seawater
Industrial Prrocess Pumps
Utility Circulating  Water
Condenser Circulating Water Pumps
Fire Service
Reclaimed Water
All are services where GRAPHALLOY can help improve efficiencies and MTBF.
10/24/2017