GRAPHALLOY®
LINEAR MOTION SOLUTIONS
DS 2529-7
GRAPHALLOY bushings provide solutions to tough linear motion applications
GRAPHALLOY's self lubricating capabilities enable shaft lubrication and eliminates product contamination from oil or grease. Temperature extremes, chemical environment and submersion are problem application where GRAPHALLOY provides a solution.
High Temperature Oven lift slides are a common linear application for GRAPHALLOY. In areas where grease fails, GRAPHALLOY provides for maintenance free operation.
Bronze Bushings were failing every other week on Thermal Printer Guides due to lack of lubrication. The high maintenance on a thermal printer on a paper cup line resulted in the loss of production and high maintenance costs. GRAPHALLOY replacements have run for more than a year with no maintenance required! DS 2090-91
Two piece plastic and aluminum molds see high temperatures where traditional linear bearings fail. One tough application is an aluminum mold for automotive wheels. The molding machine has guides that allow the machine to open. The molten aluminum is poured into the mold and generates temperatures higher than the traditional linear solution could handle. GRAPHALLOY provided longer life, reduced maintenance cost and reduced down time. DS 2090-132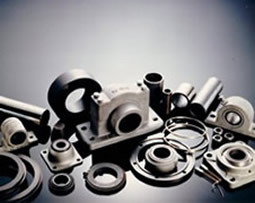 In one tough application a Coolant Splash has caused failures in traditional ball bushings. The coolant, not compatible with the lubricant used in the ball bushings caused premature failure. Self lubricating GRAPHALLOY is not effected by the coolant and provides maintenance free operation.
Guide bars on a Disc Polisher were a headache for one manufacturer.The stroke was 20" long, the housing was 17" long and the shaft had a 10" OD. The problem was to keep the lubrication on the shaft and off the product. The GRAPHALLOY solution provided a self lubricating bearing eliminating the need for grease and solved the product contamination problem.
These linear applications and many more have been solved using GRAPHALLOY. Our Applications Engineers are waiting to assist you in solving your linear and rotating bearing problems.